Every 2 years we update our testimonials…it's that time again!  PLUS we wanted to start 2017 off with something really fun – A DRAWING!!!  We have 2 prizes we're going to give away on February 1st, 2017 and you can earn tickets for the drawing by giving us reviews in up to 4 different ways!  You will get 1 ticket for each review/testimonial that you complete.  Get your ticket(s) at the front desk by signing a release giving permission to use your sweet words on our website!
Here are the 4 different ways you can earn a ticket for the drawing.  Write a review by clicking each link!
(look for the picture along the Right side of the page; underneath that you'll see the 5.0 star rating,
click "__Google Reviews", on the next page that comes up, click "write a review")
Handwritten testimonial for our books in the office
(Suzzi or Elaunda can give you a Testimonial Form at the front desk. These are used in the office to encourage others as they wait for their adjustments.  If you haven't read any of these before, we encourage you to do that!)
***if you did one in 2015, don't worry…you can give us another review or simply update yours!
**Drawing is limited to active patients at Clearview Chiropractic Life Center
Here's what you'll have a chance to win: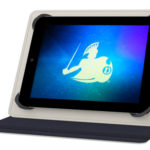 iPad Mini 4 with a DefenderShield EMF Radiation Protection Case
Dr. Sharla's FAVORITE STUFF package: all manner of fun stuff that I love to use on a regular basis!  From cleaning products to personal care items to cooking utensils to gift cards to my favorite eating spots to my favorite books