Recommended Documentaries: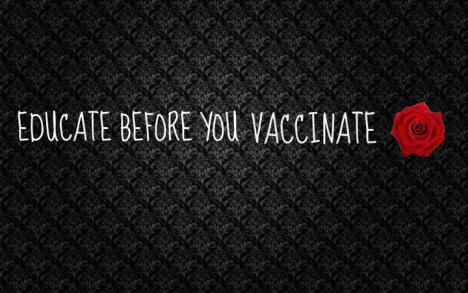 A Gentle Vaccine Detox for Children – LivingWhole.org
State of TX Vaccine Exemption Form: https://corequest.dshs.texas.gov
To Report any Reaction to a Vaccine:   VAERS
Vaccination During Pregnancy:  Is it safe?
Recommended Video Interviews:
Mary Holland is a Research Scholar from NYU law, addressing members of Congress about the National Vaccine Injury Compensation Act
Watch here as Researcher, Dr. Boyd Haley, answers statements made by Dr. Paul Offit
Vaccines are Not Safe: Dr. Boyd Haley
The Deadly Impossibility Of Herd Immunity Through Vaccination, by Dr. Russell Blaylock
Recommended Websites:
https://www.nvic.org
https://www.vaxtruth.com
https://www.vaccineinfo.net
https://www.vaccineresearchlibrary.com
Recommended Facebook LIKES:
https://www.facebook.com/vaccineinfo
https://www.facebook.com/national.vaccine.information.center
https://www.facebook.com/vaccinetruth
Recommended Articles written by laymen:
Which Vaccines & Why (Part 1)
15 Things You Should Know Before Becoming an Anti-Vaxxer
Articles Written Specifically for Christian Parents:
Both of these articles are extremely well-written, and deserve serious consideration if you are a Follower of Christ.
Christianity and the (False) god of modern medicine
God Does Not Support Vaccines
Recommended Books:
Vaccination Is Not Immunization 2nd Ed

.(2012), by Tim O'Shea

What Your Doctor May Not Tell You About Children's Vaccinations

, Stephanie Cave

Vaccine Safety Manual for Concerned Families and Health Practitioners, 2nd Edition:

Guide

to Immunization Risks and Protection

, Neil Z. Miller

Saying No to Vaccines: A Resource Guide for All Ages

, Dr. Sherri Tenpenny

How

to Raise a Healthy Child in Spite of Your Doctor

, Robert S. Mendelsohn, M.D.

Make

an Informed Vaccine Decision for the Health of Your Child: A Parent's Guide to Childhood Shots

, Mayer Eisenstein, M.D., J.D., M.P.H.

Vaccine

Epidemic: How Corporate Greed, Biased Science, and Coercive Government Threaten Our Human Rights, Our Health, and Our Children

, Louise Kuo Habakus

Evidence of Harm

, David Kirby

Vaccination, Social Violence, and Criminality: The Medical Assault on the American Brain

, Harris Coulter

The Vaccine Book

, Dr. Bob Sears
Reactions to Vaccines that need to be reported to VAERS immediately:
Pronounced swelling, redness, heat or hardness at the site of the injection;

Body rash or hives;

Shock/collapse;

High pitched screaming or persistent crying for hours;

Extreme sleepiness or long periods of unresponsiveness;

High fever (over 103 F)

Twitching or jerking of the body, arm, leg or head;

Crossing of eyes;

Weakness or paralysis of any part of the body;

Loss of eye contact or awareness or social withdrawal;

Loss of ability to roll over, sit up or stand up;

Vision or hearing loss;

Restlessness, hyperactivity or inability to concentrate;

Sleep disturbances that change wake/sleep pattern;

Head banging or onset of repetitive movements (flapping, rubbing, rocking, spinning);

Joint pain;

Muscle weakness;

Disabling fatigue;

Loss of memory;

Onset of chronic ear or respiratory infections;

Violent or persistent diarrhea or chronic constipation;

Breathing problems (asthma);

Excessive bleeding (thrombocytopenia) or anemia.
---